St Margaret's primary reading corner
Help your child develop a love of reading
Reading is an important part of your child's development and transition into adulthood. We at St Margaret's hope to engage your child in reading through a variety of materials over their time with us and encourage parents to do the same at home.
Here you can find our Book of the Week feature (at the bottom of this page or click here), with a host of book reviews and recommendations from an independent book store in Hove and in the future we will also be posting some reviews written by our very own children.
Also featured is our "Staff Favourites", videos of our team members discussing their favourite children's books! All are available at the school library for your child to enjoy.
Libraries Week! October 4th - 10th 2021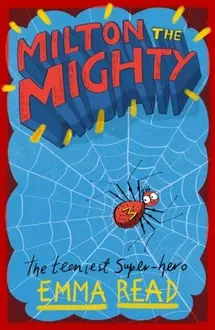 Milton The Mighty
By Emma Read
Milton was strolling home after a weekend away in the downstairs loo, when he heard the scream.

He froze. It was coming from the big house human, but it wasn't an ordinary scream. It was an all-eight-leg wobbler, as his dad would've said.

Surely he's not screaming like that at me?
And that is how we meet Milton the house spider. Utterly un-terrifying and occasionally mistaken for a raisin, Milton discovers he's been branded deadly. Alongside his buddies, big hairy Ralph and daddy-long-legs Audrey, he decides to clear his name. But to succeed, Milton must befriend his house human, Zoe. Is Milton mighty enough to achieve the impossible?
About the book
Fast-paced and fabulously funny, this arachnid adventure has it all. Quirky villains, a team of heroes, a girl who knows a lot more than her parent, and some lessons in social media and fake news. Milton the Mighty also contains some super spider facts at the end. Perfect for newly independent readers and great for KS1/ lower KS2.
Milton the Mighty by Emma Read with illustrations by Alex G Griffiths.
Review reproduced by permission from The Book Nook
To purchase a copy please see The Book Nook website HERE