St Margaret's primary reading corner
Help your child develop a love of reading
Reading is an important part of your child's development and transition into adulthood. We at St Margaret's hope to engage your child in reading through a variety of materials over their time with us and encourage parents to do the same at home.
Here you can find our Book of the Week feature (at the bottom of this page or click here), with a host of book reviews and recommendations from an independent book store in Hove and in the future we will also be posting some reviews written by our very own children.
Also featured is our "Staff Favourites", videos of our team members discussing their favourite children's books! All are available at the school library for your child to enjoy.
Libraries Week! October 4th - 10th 2021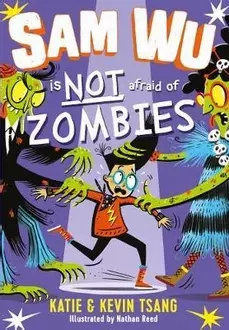 Sam Wu is Not Afraid of Zombies
By Katie & Kevin Tsang
We love the Sam Wu series! Highly illustrated, fun and fast-paced reads with guaranteed laughs, they never disappoint.
In Sam Wu is Not Afraid of Zombies Sam and his team are back to face their fears together as they investigate the strange noises – and smells – coming from Ralph and Regina's Do-Not-Enter basement. Hilarity and chaos ensue as the team try to save the world from a rabid pack of zombie werewolves.
We particularly love this series for its readability, strong sense of fun and imagination and its beautifully positive and casual inclusion of diverse characters. Sam Wu is Not Afraid of Zombies includes gentle nods to the fear of being different and not fitting in and shows the reader that you will always find your people if you are brave enough to be yourself.
Perfect for fans of Pamela Butchart and a brilliant follow on from her Wigglesbottom Primary School series.
About the book
The fifth in the slapstick, action-packed middle-grade series. Sam is conflicted about saving the day when it's his arch-enemy Ralph Zinkerman the Third who falls foul of the zombie werewolves. Deals with common childhood fears in a sensitive and accepting way.
Review reproduced by permission from The Book Nook
To purchase a copy please see The Book Nook website HERE