St Margaret's primary reading corner
Help your child develop a love of reading
Reading is an important part of your child's development and transition into adulthood. We at St Margaret's hope to engage your child in reading through a variety of materials over their time with us and encourage parents to do the same at home.
Here you can find our Book of the Week feature (at the bottom of this page or click here), with a host of book reviews and recommendations from an independent book store in Hove and in the future we will also be posting some reviews written by our very own children.
Also featured is our "Staff Favourites", videos of our team members discussing their favourite children's books! All are available at the school library for your child to enjoy.
Libraries Week! October 4th - 10th 2021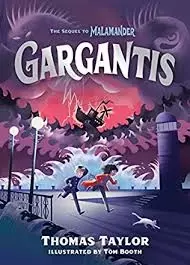 Gargantis
Thomas Taylor
At last! The much-anticipated sequel to Malamander is nearly here and we are SO happy to be sharing it with you all. We have SIGNED pre-orders available! Eek!
About the book
It's a joy to be back in the world of Eerie-on-Sea amongst the characters and locations we know and love from our Malamander adventure. Dear Mrs Fossil, the delightful Erwin the cat, quirky Dr Thalassi, our beloved Jenny Hanniver, and of course, our heroes, Herbie Lemon and Violet Parma. It feels like coming home.
But there's no time to get too comfortable amongst old friends because there are new mysterious characters appearing in Eerie-on-Sea, and a heavy dose of magic that seems to be spiralling out of control.
Recommended for KS2 Age 9+
Review reproduced by permission from The Book Nook
To purchase a copy please see The Book Nook website HERE