St Margaret's primary reading corner
Help your child develop a love of reading
Reading is an important part of your child's development and transition into adulthood. We at St Margaret's hope to engage your child in reading through a variety of materials over their time with us and encourage parents to do the same at home.
Here you can find our Book of the Week feature (at the bottom of this page or click here), with a host of book reviews and recommendations from an independent book store in Hove and in the future we will also be posting some reviews written by our very own children.
Also featured is our "Staff Favourites", videos of our team members discussing their favourite children's books! All are available at the school library for your child to enjoy.
Libraries Week! October 4th - 10th 2021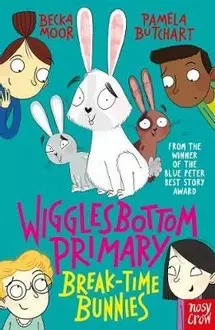 Wigglesbottom Primary: Break-Time Bunnies
By Becka Moor & Pamela Butchart
All is chaos in Year 2! An unexpected visitor, a bewitched violin and an invasion of bunnies! What can it all mean?
The hilarious Wigglesbottom Primary series is back with a bang… and a lot of bunnies, in this laugh out loud book with three new stories about Class 2R and their wild imaginations.
School days are never boring at Wigglesbottom Primary and we love the way the stories race along at the same pace as Class 2R's imaginations. These adventures are hugely relatable and super fun, showing a class of brilliantly positive and diverse children working together through every step of their adventures.
About the book
Pamela Butchart never fails to ace the imaginary leaps of young children and to celebrate the fun and excitement of childhood. Becka Moor's illustrations bring all the energy of the characters to life and add even more comedy to the zany situations they create.
Perfect for Key Stage 1 and newly independent readers who love riotously funny stories.
Review reproduced by permission from The Book Nook
To purchase a copy please see The Book Nook website HERE